Further Adventures Down The Path…
1977 New York/London.
A flurry of activity, last few days in L.A. Saying goodbye to friends for at least awhile. Talked to the manager of The Sidewalk Cafe to make sure I had a job if and when I came back. Packed, unpacked, tossed out bunches of clothes, kept a notebook to write in, hid Blotter Acid in its spine, just in case, ya know. Traveling light, I basically had a carry-on bag, 2 shirts, pants, slouch hat, raincoat. I planned to buy clothes etc in London when I arrived.
Flew into New York and took the subway into Manhattan. You often hear/read that New Yorker's aren't friendly. Not true, just get on the subway at the airport, with a pack & a slouch hat. Everyone wants to give you directions, where to get the best slice (pizza), "Where ya going?" and multiple other questions. I disembarked in central Manhattan where my friend Chris met me and eventually took me over to his place in Brooklyn Heights. I had known Chris for several years along with his longtime lover Dan. They had broken up a year or more before and Dan had moved to Amsterdam.
Chris was originally from Kentucky and was about 10 years older than I. He had come out (about being Gay) to his family when he was 18 and they had promptly put him in a mental asylum where he received multiple electric shock treatments to cure him of his homosexual desires. Of course, that didn't work. It left Chris with some short-term memory problems, and he recounted examples to me as we were traveling to his flat. He went on about having to write down on a piece of paper where he was going, having found himself sitting for 4 hours one day on the underground going around and around Manhattan totally sunk into his thoughts.
When we got to the flat, he introduced me to his new lover, a young deaf guy. We sat around, smoked pot and tried to communicate to each other. It was all kinds of lovely and mind boggling. They were so entranced with each other; it was nice to see.
This was the first time I was in New York since I was a kid and I found it really quite wonderful. One of the wonders of New York was Chris's flat. He had stacks upon stacks of New York Times New Yorker East Village Other as well as other publications in his living room. The stacks were 3 ft high, I asked him about it when I came in "to oh, I collect things" he said… Try this out figure out which newspaper or magazine you want me to locate and give me a date and I'll tell you where to find it. I did so: "East Village Other 1967 October 2nd." Chris replied "It's in that stack three from the bottom and its actually October 4th not second." And he was right. We did this for a couple of hours or so it seemed I found it absolutely fascinating that he could memorize where each periodical was.
We headed over to the Greenwich Village later on after I was rested. We first went to the White horse for drinks and to see the famous names carved into the bar. I found Dylan Thomas's name carved into the bar… Absolute heaven. We spent the night drinking and going from Bar to Bar. He talked about the heady days of the Stonewall Rebellion. It was all kinds of wonderful.
We took in a couple of off Broadway shows during that week one of them starting at 3:00 a.m. in the morning in the East Village, heavens this town never seems to sleep. I can't remember if any of the shows were worth the time, but just to be out and about in New York was great.
Studio 54
While I was in New York I looked up a couple of friends from LA who happened to be models. They had recently moved to catch opportunities in the Big Apple. I connected with them in the evening, they lived in a building that was dedicated to young women only, which I thought was kind of interesting: a dormitory without a college who knew? When I arrived, they were dressed exquisitely; they informed me that we were all going to Studio 54. When we stepped out of the building there was a big stretch limo waiting for us. It took us over to Studio 54, dropping us off at the front door much to the chagrin of people standing in line as we were escorted in. It turned out to be the opening party for "Hair's" revival. This being early October as "Hair" was opening October 6th at the Biltmore theater. This wasn't exactly my cup of tea but I was along for the ride. Turns out that the bar was completely open much to my satisfaction and after going back several times for Jack Daniels the bartender just handed me the bottle which was even better yet.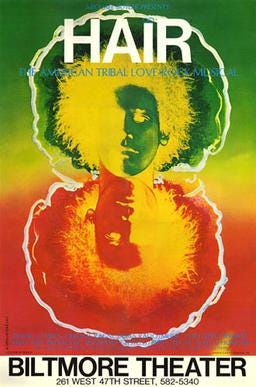 Studio 54 was pretty wild and as I was enjoying the spectacle and music I started to converse with a lovely young lady, who turned out to be Swiss. She was working as an au pair with one of the old established families in Manhattan. We caught a cab back to the Brown Stone, to spend the remainder of the evening and then several days together before I flew off to London.
London
Following a vision/dream I had in 1976 living on the North Shore of Oahu, (more on that later,) departing New York, I flew into London in early October to see what the scene was like and to perhaps start a new chapter in my life. Arriving in London, customs thoroughly, and I mean thoroughly went over my bag, jacket, etc. missing the Blotter obviously. (This would happen repeatedly over the years) Caught the train into London from Gatwick… a beautiful morning.
Background: I was recovering from a long-term relationship that turned toxic in 1973/4 and I was still struggling to extricate myself from the emotional side of it… I felt that London and Europe were going to be the break that I needed to reorient myself. (I was also working on a book at that point, which was published in 1979).
First impressions of being in the UK: I could breathe. First time since moving from Canada as a kid, my sinuses were happy. There was also an odd feeling of familiarity with being there; it was like memory but not. I felt strangely at home, no, not London, but the UK. Was it inherent memory? 98% of my genetics are tied to this Island and Ireland… which at that point I didn't know except the familial stories. How do you explain it? The light, the air, the land… The faces on the streets
Part of the nebulous plan for my time in London was getting signed with Stiff Records as my friend Phil over-the-top i.e. Snakefinger who I had played music within LA was old buddies with Jake Rivera the owner of said label. Phil had been in Chili Willy & The Red-Hot Peppers, and when he moved to the States (staying with John & Yoko for a while in the Dakota as his wife was Yoko's secretary) became friends with the Avant Rock band, "The Residents" San Francisco based, Dada inspired, and truly wonderful people. Phil was taken with my over-the-top vocals and harmonica playing. We usually did Eddie Cochran & Buddy Holly with the occasional Who covers when playing in Venice and elsewhere. He was truly a consummate musician, and a great person to boot.
After arriving in London, I ended up in Brixton staying at my friend Fizzle's commune just down from Brixton market. Fizzle, who I had met and hung out with in Venice and Santa Monica (friend of Phil's as well), happened to be a secretary at Stiff Records.
As I said, I arrived in London in early October… It was absolutely glorious. One of those early autumn's that only Britain can have. Fizzle and I ran around to various clubs and pubs, hanging out on King's Road on the weekends and generally having a good time. Brixton market was a wonder with multiple DJs and sound systems playing throughout it with the most amazing music from Jamaica and Jamaican diaspora in London. The smell of the markets herbs and cooking were heady, mixed with the smell of ganja & hash. A pure delight.
Brixton Market, Long Ago
As I said Fizzle took me around London up to Kings Road, Camden town and other hot spots at that time period. I found some interesting correlations between London in 1977 with the Haight in San Francisco in 1967, in that London (along with New York) was a nexus point for a cultural shift. I spend lots of time wandering, observing and meeting people. From "Seditionaries" to "Boy" and other shops along Kings Road and elsewhere you could see fashion evolving almost daily. There was a cascade of great music and art, London was erupting with a creative spirit at that point… It was all very heady.
I ended up sleeping on Fizzles' floor in her room, which was kind of her. It was a great commune. They opened the door to me with my comings and goings. The level of sharing and laughter was a delight… There were some real cultural awakenings on my part, and we often had conversations deep into the night about the variances between the California experience and the London/UK experience. While there the commune turned me on to all kinds of new music including Ian Drury & The Blockheads and Elvis ("our Elvis" as they said) Costello & the Attractions.
One of my favorite housemates of Fizzles was a wee moggy/kitty named Atom. Atom wasn't the sharpest blade but very sweet. The neighborhood kids have been playing with him upstairs in the commune and had decided they wanted to see if he'd land on his feet when he was 6 weeks old as I remember them saying… it didn't happen and he landed on his head, so he was a bit short on some things but not on sweetness; he just love to curl up in your lap and purr like crazy.
One of the highlights of our time together was to see Dr. Feelgood, along with Mink Deville at Hammersmith Odeon, mid-October. On the way there, I got jumped by 4 guys whilst we were heading down the stairs to the Underground in Brixton.  I knew I was in trouble when Fizzle turned around, looked at the situation with eyes like saucers… suffice to say I don't think they were quite prepared for someone to resist them. Sizzle commented that" you were mad to fight back there were four of them! I replied "It was all automatic when I felt their hands seize my arms, I saw red." There were no further adventures on our way to Hammersmith Odeon I am happy to say. It was a great show, Mink DeVille opening and Dr Feelgood giving a stunning show. sadly, for me Wilco Johnson had been replaced by a new guitarist as he had gone solo.
I kept on putting off going in and meeting with Jake Rivera which perhaps in hindsight was a mistake, but life turned out okay without doing so. There was no way that I could compete in talent with a lot of the people on their roster at Stiff Records. At least that was my feeling at that point in time.
A couple of weeks into the stay in London I realized that I couldn't stay on Fizzle's floor forever… I had made friends with several people down on Kings Road and one of the guys that I met, a wide boy from the EastEnd suggested that I come and doss out at the squat that he and his bandmates had on the Isle of Dogs in an old East India Trading Company Tea Warehouse. Harry as I knew him also was one of the very few people in London that I knew that actually had a car, so he drove me over to the EastEnd on a glorious Saturday afternoon with the autumn just exploding around us along the way. It was sheer heaven. Being Saturday, we of course stopped off at the pub on the way I had fallen in love with British pub life, drinking was not as serious there or at least it wasn't then as it was in a bar in the US. Much more of a social atmosphere which I absolutely delighted in. After a few pints we walked over to the warehouse and then up the stairs for seven stories. I never been in a warehouse that old and it was really amazing architecture but here's the deal we got to the Squat and you went through the door and there was a plank that went across a gaping hole in the floor which when you look down went all the way to the water where tea was holed up by ropes at one time… This being where we were going to stay and live so getting across this drop was going to be a challenge at the best of times.
I stayed in Brixton for a couple more days, then I went ahead and moved over with the help of Harry. I gave my thanks to Fizzle and her wonderful housemates and said goodbye.
The Isle Of Dogs:
Harry & I got back to the Isle of Dogs, taking my belongings upstairs across the chasm, deposited them and then of course we headed off to the pub. After about five or six pints we headed out. It was dark as we made our way to the Thames. We stood by the water and smoked hash for about an hour. I slipped into a revery, watching the waters of the river flow by. I could feel the flow of life… and yet I could not put my finger on the direction I was going in.
The East India Tea House, at the turn of the previous century
We headed to the warehouse walked up those flights of stairs… then I had to maneuver across the chasm completely stoned on hash and alcohol. I ended up crawling across the board hanging on for dear life looking at the Thames below… much to the amusement of everyone. I found a nice corner to lay down and proceeded to fall asleep. Around 3:00 in the morning I woke to the horrible din as the band had decided to have a practice session. It turned out that this was a nightly occurrence as soon as they all were home. I just couldn't adjust to it! (Today, the building has been converted to condos, going for a million pounds, sad. It was full of artist, musicians, young families. It was a great little community)
After a few days, I ended up taking a bed sit for a week or so. I was rapidly souring on London at this point it just didn't feel right…. something was missing, and I felt outside of its mysteries. Whatever I was looking for, wasn't present. (yet)
I'd sent a letter over to Dan in Amsterdam and asked him if I could come stay for a while and he enthusiastically invited me over. The next evening, I set off to Amsterdam on the boat train.
The Boat part of the Boat/Train…. ;p

The first part of the journey was at Waterloo Station (ah, I thought of The Kinks every time I passed through Waterloo…) to catch the Boat/Train to The Netherlands. It was a beautiful night for traveling and I fell in talking to a few people along the way. The crossing to The Netherlands was uneventful on the main, one of the perks being you could get a pint of Heinekens for 15pence in the salon! The younger ones in the crowd aboard of course went over the top with this, making the toilets a no go near the bar.
I ended up sleeping on a deck chair with the moon above, the North Sea all surrounding, heading towards Mother Europe….
Still dreaming, still questing for whatever was driving me on.
Thank You for Reading…
One of my favourites from my time in London, the album came out the week before I arrived…
Subscribe to Gwyllm's Newsletter
By Gwyllm Llwydd · Launched 5 months ago
Memories, Musings, Speculations, & Occult Adventures along the Poison Path.✓