The Princess of Wands
This card represents dynamic passion – for life in general. If it comes up relating to an inner energy then it will indicate that you are overcoming old fears, breaking out of old patterns, and setting yourself free. There will be confidence, decisive action, an assertive leap forward into the heart of your life. It will often come up to indicate that you have broken through habitual limitations and restrictions, thereby freeing off your power to be used constructively.
It can indicate a spiritual breakthrough, which will always include the courage to face your fears, and see them for what they truly are. One strange fact about unacknowledged fears is that they take on the darkest, most horrifying shape with which your subconscious can imbue them. Yet when you drag them out into the light of day, you suddenly realise that what you were so scared of might a) never happen; b) not be as bad as you thought it would be when you feared it; and c) you've probably got what it takes to deal with it anyway!
If the Princess of Wands comes up to indicate a person, then she will be strong, forceful, determined, unswerving… and perhaps a touch bossy! She is a faithful and trustworthy friend, whose insight and perception will often steer you in the right direction. She will be energetic and enthusiastic about life, with a big personality.
As a partner she's independent, sometimes a touch stubborn, but loyal and caring. These are often career women, and usually wait till later on to start families. She will be experienced, and intelligent, though regularly you find that such young women have had to learn most of their lessons the hard way.
As an enemy she's dangerous – she's usually outspoken, and unafraid to express her anger. If you manage to make an enemy of one of these women, you need to think very carefully about how that happened. Mostly their engagement with life is so total that they don't waste time on negative pursuits. All the Wand people place morality and ethics high on their list of priorities. They are honest decent people with a strong code of behaviour to which they adhere faithfully.
This card will rarely come up to indicate an event – she almost always shows either another person in your life, or an aspect of self.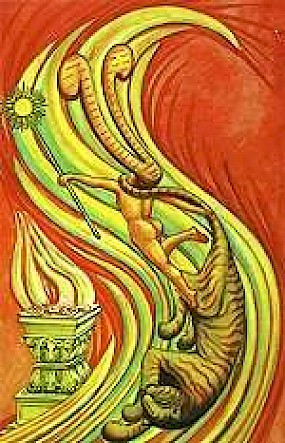 (via angelpaths.com and Alan Blackman)